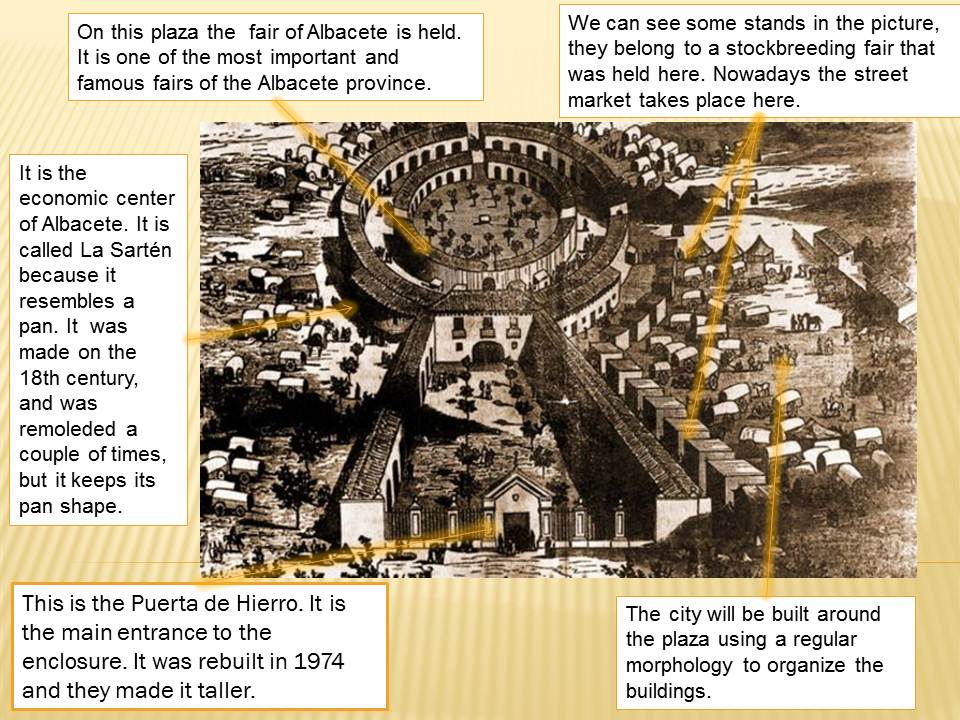 This image from the web of tourism of Castilla-La Mancha, shows a plaza called La Sartén. It is a drawing of the plaza that was made on the 19th century. The square is located between Calle de la Feria, Avenida los Toreros and Calle Benavente. The image is anonymous.
The origins of the city of Albacete are uncertain. We know about an old castle from the times when the Muslims where on the peninsula, but we do not know if there was a city there. We know that they called the area "Al- Basit" which means "The plain". Albacete is situated on a crossroad that links Andalucía, Levante and the center of the Plateau. So it may have been an important transit area. In 1805, the creation of the Maria Cristina's Royal Channel was started. It was made to turn the city into a healthier place. In 1833, the province of Albacete was created, the city of Albacete was its capital and it had territories of the Reign of Murcia, Cuenca and other provinces of La Mancha. During the Civil War (1936- 39) Albacete was the International Brigades' headquarters and after the war it increased its urban development and step by step it came to be the city that it is right now.
The principal element of the image is the plaza, it was built in 1783 and its architect was Josef Ximenez. At the beginning, the enclosure was only the inner circle and the entrance building. In 1784 it was finished and the architect who finished it was Antonio Cuesta. The square has been rebuilt a couple of times. In 1912 the template of the central circle was built. In 1944 a third circle was added, plus the exhibition hall and two pavilions at the entrance building. Finally in 1794 the Puerta de Hierros, at
the entrance, was rebuilt and it was turned into a new and taller door made of white bricks. On the image we cannot see the rest of the city but nowadays there is a lot of buildings around the plaza and they are organized on a regular layout. Probably it is an "ensanche" that was built upon old buildings.
La Sartén was an important meeting place due to Albacete's fair. The fair was a big social and economic event, a stockbreeding fair that was held there during 10 days and attracted merchants and people from other regions. At the beginning it was held on San Andres's day ( 28th  of November). Then it changed to San Agustín's day (30th of August). Finally it changed again and was held on September the 8th along with the Virgin's pilgrimage.
Cristina Balibrea Pérez