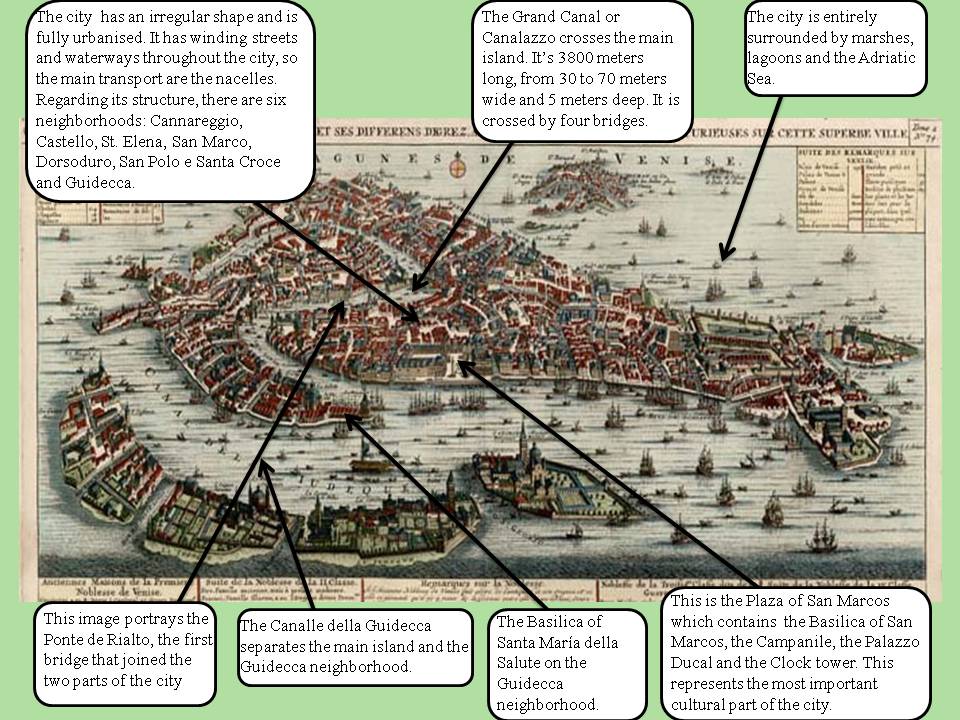 This work of art belongs to The Phyllis Lucas Gallery Old Print Center in the city of New York. It represents the entire city of Venice, situated in the northeast of Italy in the Adriatic Sea, between the mouths of the rivers Po and Piave. It represents the city around the year  1718. It was painted by Henry-Abraham Chatelain, a famous map cartographer from the 18th century. The name of the painting is "Cartu du Plan de Venise". It does not focus on a specific element of the city; it shows all the different parts of Venice.
The image portrays with many details the structure of Venice, a city surrounded by lagoons, marshes and different isles. Furthermore, the painting tries to represent the maritime activity of the city with the different boats painted in the water. Venice is composed by one hundred and eighteen islands connected by four hundred and fifty five bridges and there are over two hundred castles through the Grand Canal. Venice is divided in different parts: the main island crossed by the Grand Canal or Canalazzo and the different isles surrounding the main island. In the image we can appreciate the urban layout of the city and the morphology of its main island. The main transport in Venice is the nacelle, a little boat used to navigate through the Grand Canal and between the different islands. The streets are organized in neighborhoods, and there are different waterways across the city called Rii.
Venice is separated in six different neighbordoods: Cananreggio in the north, S. Elena and Castello in the east, San Marcos in the center, Santo Polo e Santa Croce and Dorsoduro in the west and Guidecca in the south. Regarding the main elements of the city we have the Bridge of Rialto, which was the first bridge to cross the Grand Canal and the Bridge of the Constitution, also called the Ponte dei Suspiri that joins the Palazzo Ducal with State Prisons (Piombi). We also see the Plaza of San Marcos situated on the south in the San Marcos neighborhood, which contains the Basilica of San Marcos built in the year 823, the Campanile (that awarded the arrival of ships to the city or the fires), the Palazzo Ducal built in the XI century and the Clock Tower. An important element of the city is the Grand Canal, already mentioned earlier, with three thousand eight hundred meters long, from thirty to seventy meters wide and five meters deep. It is called the Canalazzo. We can also highlight the Basilica de Santa María della Salute built in the year 1687, close to the Grand Canal in the Dorsoduro neighborhood. In total Venice has over fifty churches.
Marc Biarnés González