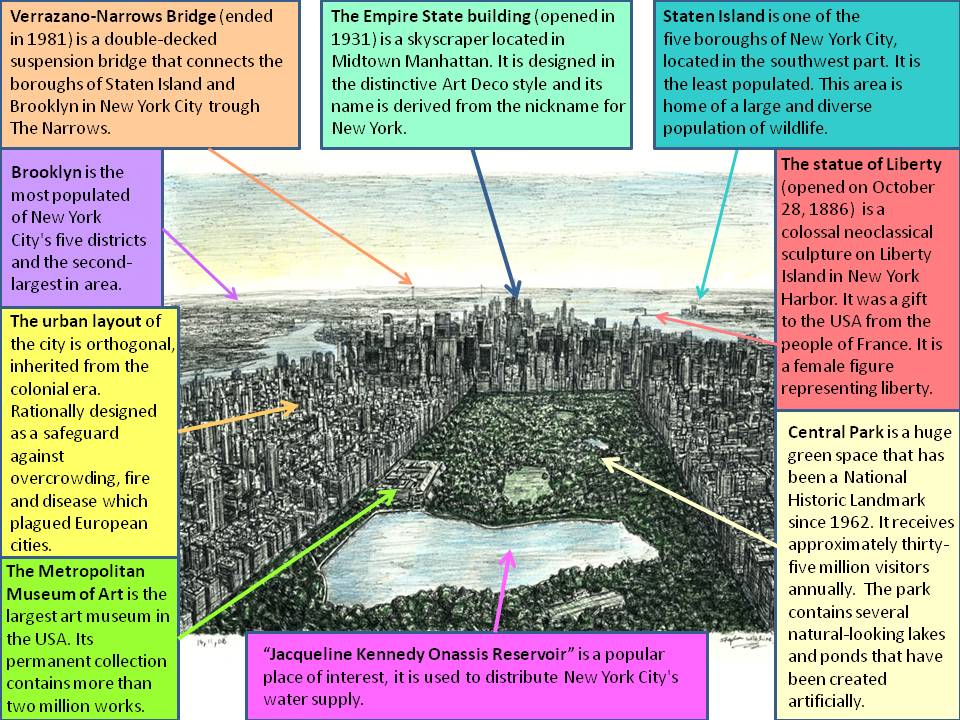 This work of art belongs to the collection of Stephen Wiltshire. It represents the most important open air space in New York, Central Park. This painting is from 2008, as the date in the left side points out «14, 11, 08». The painter is a British architectural artist who has been diagnosed with autism. His signature is in the bottom right border. He is known for his ability to draw a landscape from memory after seeing it just once. He founded his own permanent art gallery in London's Royal Opera Arcade, full of drawings and paintings about detailed city spaces.
The image we are introducing here portrays, with a great amount of details, the appearance that Central Park and its surroundings had in 2008, which is not very different from nowadays. This public space is full of green areas, an endless number of buildings and a bridge in the background. In the painting, we can appreciate part of the urban layout of the city which is orthogonal, inherited from the colonial era; the shape of the park is rectangular, closed in by well-aligned buildings..  The streets leading up to the park are straight and narrow. It was conceived during the mid-19th century as a recreational space for residents who were overworked and living in cramped quarters. The Greensward plan used innovative design approaches, including sunken transverse roads with landscape grading and plantings to avoid the physical and visual disruption of traffic.
New York is composed by five districts which are Manhattan, The Bronx, Brooklyn, Queens and Staten Island. The composition has a fantastic aerial perspective and shows three of those boroughs. The artist allows us to see a spectacular view of Manhattan, Brooklyn and Staten Island in the distance. In the horizon it is also clearly represented one of the most important bridges called «Verrazano-Narrows Bridge» which communicates Brooklyn with Staten Island.
On the right part of the painting, although we can hardly appreciate it, the statue of Liberty is drawn. The strong point of this picture is the Central Park green space, which captures all our attention. We can see the «Metropolitan Museum of Art» on the left part of the park, and in the foreground we can find in blue color the «Jacqueline Kennedy Onassis Reservoir». Despite the lack of chromatic variety (only blue for water and green for trees and grass), it is an amazing picture of the open air space of Manhattan, which looks like a jungle in the middle of skyscrapers.
It is curious to point out that The American Planning Association (APA) has named Central Park one of the 2008 Great Public Spaces in America. This big green place is just as revered today as a peaceful retreat from the day-to-day stresses of urban life, a place where millions of New Yorkers and visitors from around the world come to experience the scenic beauty of one of America's greatest works of art.
Teresa Sánchez Serrano