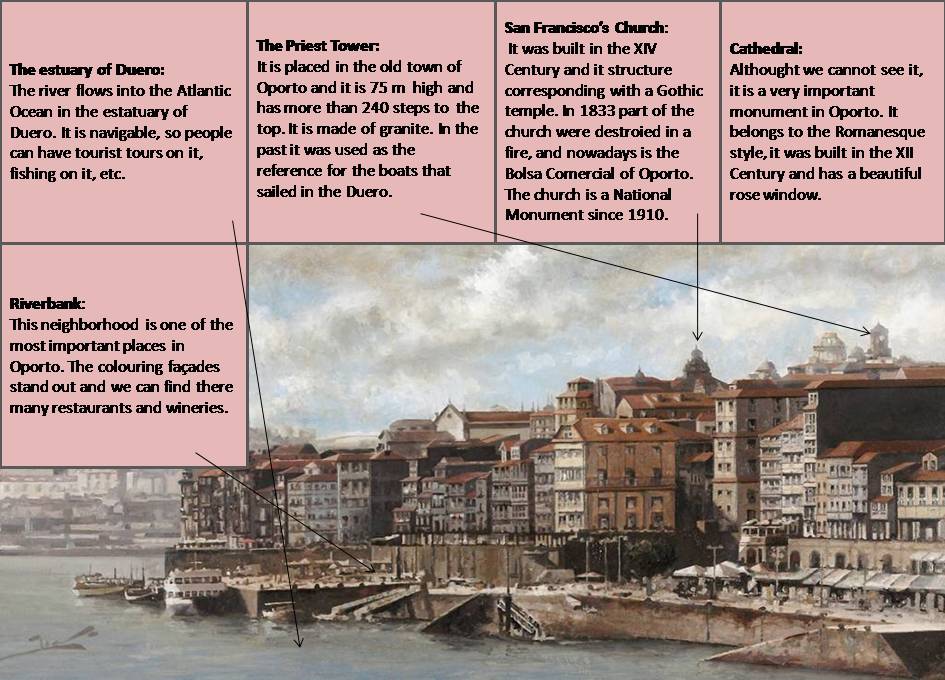 This picture was painted by Jano Muñoz in 2010, and its title is «Cielo encima de Oporto». It was displayed in Moret Art Gallery in 2010, in an exhibition of Contemporary Art in A Coruña, Spain. Jano Muñoz was born in 1971 in Galicia. He is a contemporary but classical painter who is used to painting landscapes. This type of painting centers its attention on the commercial life of the Porto harbour and the façade of the buildings in the 20th Century.
The city of Porto is situated in the North of Portugal and is the second most important in the country. We should mention that Oporto means «port», because the Duero river had a lot of importance in city since ancient times. This image represents the Duero river, the harbour of Porto and some traditional examples of the architecture of the city. The painting is divided into two parts; on the one hand we can se a very cloudy sky, although it is still beautiful, on the other hand, it is represented the commercial life and restaurants of the touristic zone of the riverside. Also, we can see boats and ships which could represents the activity of fishing and trade.
We can infere the urban layout of Porto as irregular except the riverside promenade that forms a line of traditional buildings parallel to the river. Generally speaking, the streets and buildings outline is inappropiate and suffers a huge deterioration, so it can be a problem for the people who currently live there. In the foreground, we can see the Main Street in the right margin of the picture, which is a kind of market place and leisure area, next to the harbour. At the top of this part, there is a small castle and other ancient buildings. Regarding the buildings, we should mention their façades; we can highlight them and their subdued colours, such as blue, white or yellow. The appearance of the city is cramped because all the buildings are close to the others wihout much space between them. It is curious to note that the old quarter was named a World Heritage Site in 1996 due to the importance os some monuments, such as the Stock Market Palace (World Heritage Site), the Cathedral (built in the XVII Century) and the Tower of the Priests.
As a curiosity, Porto has the longest underground in Portugal. Interestingly, we can point out the importance of the vineyards and the wine of Porto, that are a very popular attraction for tourists and also a significant good for economic activities. To conclude, it is also important to mention that Porto is known too as the city of bridges.
Laura Sepúlveda de la Mata